USS LOWE DER 325
In 1955 I was stationed aboard the USS LSM 455 at Net Pier, Long Beach, California. One day a tug towed in a white and rust WDE 425 to the pier to our starboard side at the Navy Ship Yard. Little did I know that it would be my next assignment. The shipyard workers striped her down to the main deck and re-built her from there up with aluminum adding tripod mast fore and aft along with as much search radar gear as a cruiser. She still had her 3"-50 Open gun mounts at that time and the guns in the photo were added at some later date.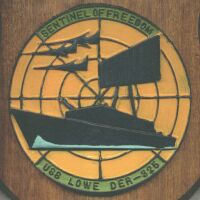 Next thing I know I have orders to report to the USS Tucker DDR 875 for pre-commissioning school at San Diego. After a week or so there I got orders to report to the USS Lowe. Upon reporting aboard as a Fireman's Apprentice (E-2) the 1st class Personnelman stated that I would be a "snipe" in the engine room. Being that I had better than two years in the Navy, I was not about to end up mess cooking and cleaning bilge's.
I let him know that I was not some "Boot" and what did he have for me. He said that he needed an Electrician or Interior Communications Electrician (IC man) strikers and I chose IC man. That's how I ended up with the rate. Within 6 months I was a IC Fireman (E-3). Another six months and I had my Chevron for IC 3rd Class (E-4). I stayed aboard until my active duty hitch was up in June, 1957.
The Lowe was reclassified a radar picket ship, DER-325, on 28 October 1954. With Lt. Comdr. J. R. Bohlken in command, in 1955 she was re-commissioned in the Navy at Long Beach Naval Shipyard after being converted to a radar picket escort vessel. That made me "Plank Owner".
LOWE joined Escort Squadron 5 at Pier 91,Seattle, Washington. We made many picket trips and one cruise to San Francisco for what I don't know but I did have two of the four days there as liberty so I got to see the town.
She saw extended duty with the North American Air Defense Command as a unit of the seaward extension of the DEW line, eventually completing 67 tours as a picket vessel. While on station 20 February 1962, she was an emergency rescue link for Lt. Col. John Glenn's three-orbit space mission.


BACK TO HOME PAGE FORWARD